The most fashionable yellow formal styles for Autumn: Discover the Magic of the Honey colour.
Autumn is upon us, and with it comes incredible fashion opportunities. It's a time when we can express our individuality and go wild with colours, and one of the most alluring shades of the season is honey yellow. We present you with three amazing formal styles from De Marco that will bring you confidence and elegance in both everyday situations and important celebrations.
Also read: Exclusive dresses, coats, suits, costumes and women's suits. De Marco reviews
The most fashionable yellow formal styles for Autumn: Honey HIT!!! Formal dresses, women's suits and modern suits
De Marco's honey-coloured office formal set Even in the grey reality of the office, you can shine with a honey-coloured trouser, women's suit or elegant suit De Marco. This colour is not only energising, but also blends perfectly with other shades. Surprise your colleagues with a bold and stylish approach. Our honey-coloured proposals are easy to style ensembles that will look great both as a total look and complemented with accessories in different colours – white, black, beige, bottle green or denim.
Honey Elegance at Grand Celebrations Dreaming of a stunning creation at an important family party or cultural event? Choose a honey ruffle suit from De Marco. It's a combination of classic and daring that is sure to attract attention. Add elegant stilettos and delicate jewellery to create a striking look. The honey yellow shade will illuminate your complexion and add radiance.
Exclusive De Marco formal set with asymmetric skirt created for business success If you want to make a name for yourself at business meetings, opt for De Marco's exclusive women's formal set with asymmetric maxi skirt. This set exudes confidence and stylish elegance. Pair it with a classic blazer and delicate accessories if desired. The honey yellow colour gives you a fresh, rejuvenated look, which is sure to influence your confidence when negotiating or speaking in public.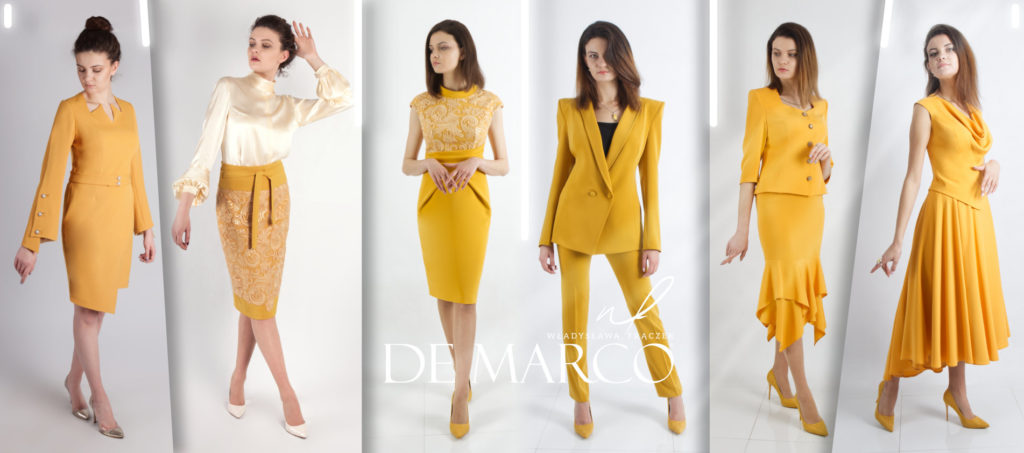 Also read: Fashionable colours for autumn: mustard, honey, or ugre! Elegant styles from De Marco.
Honey yellow is not only the colour of autumn, but also one of the season's top trends. It adds character and energy to any look, while also matching many other colours. At De Marco, we believe that fashion choices affect our confidence, so we've created these three looks that combine feminine charm, elegance and comfort. Now you can delight the world with honey yellow – a colourful accent this autumn!