De Marco Polish floral cocktail dresses. Bespoke sewing Krakow, Warsaw, Wroclaw, Torun, Jelenia Gora, Nowy Sacz, Poznan…. the whole of Poland, we provide the service online. We place orders through the online shop.
What to wear to a summer family garden party? How to dress for a garden party with friends? We present beautifully – simple and airy – floral cocktail dresses from Polish manufacturer De Marco.
Our client, the gorgeous Ms Anna Wrona, in the floral cocktail dress Mirna VI. The beautiful Polish chiffon dress with a floral motif is available at our Atelier De Marco, with a bespoke option from the designer.
Delicate and feminine. Are floral dresses in fashion?
Whether formal dresses, cocktail dresses or particularly feminine ensembles, floral creations are always in fashion, especially during the sunny spring-summer period. The charm and romantic style of floral motifs is appreciated by the greatest fashion designers as well as well-known and popular personalities from the world of culture and art. Floral dresses are beautiful, simple and elegant styles worn by celebrities of all ages. Perfect examples of this include: Helen Mirren, Jennifer Aniston, Jennifer Lopez, Keira Knightley and even Monica Bellucci, who is rather known for her black styles.
Dresses with a floral motif are one of the very popular trends among the world's movie stars. Both ladies 30+, 40+, 50+ and 60+ look beautiful in floral cocktail dresses. Pictured: British stage and film actress Helen Mirren in a beautiful floral dress; American actress and producer Jennifer Aniston and Keira Knightley, known for the film version of Jane Auten's novel Pride and Prejudice. Source: fashionsizle.com, goodhousekeeping.com, celbsfirst.com
Despite appearances, an airy and chic floral dress, such as our cascading cocktail dress with falbans Aniela III or Mirna VI with a comfortable wide drawstring waist – are versatile creations. They are perfect not only for garden parties with friends or family, you can successfully wear them to weddings as a guest, birthdays, community cultural events, outdoor concerts or City Days. It will work for women of all ages and virtually every body type. Simple floral dresses are definitely one of the most fashionable trends of the summer 2023-2024.
Also read: De Marco wedding dress for guest. Airy floral dresses
Polish floral mini, midi and maxi dresses. Versatile floral styles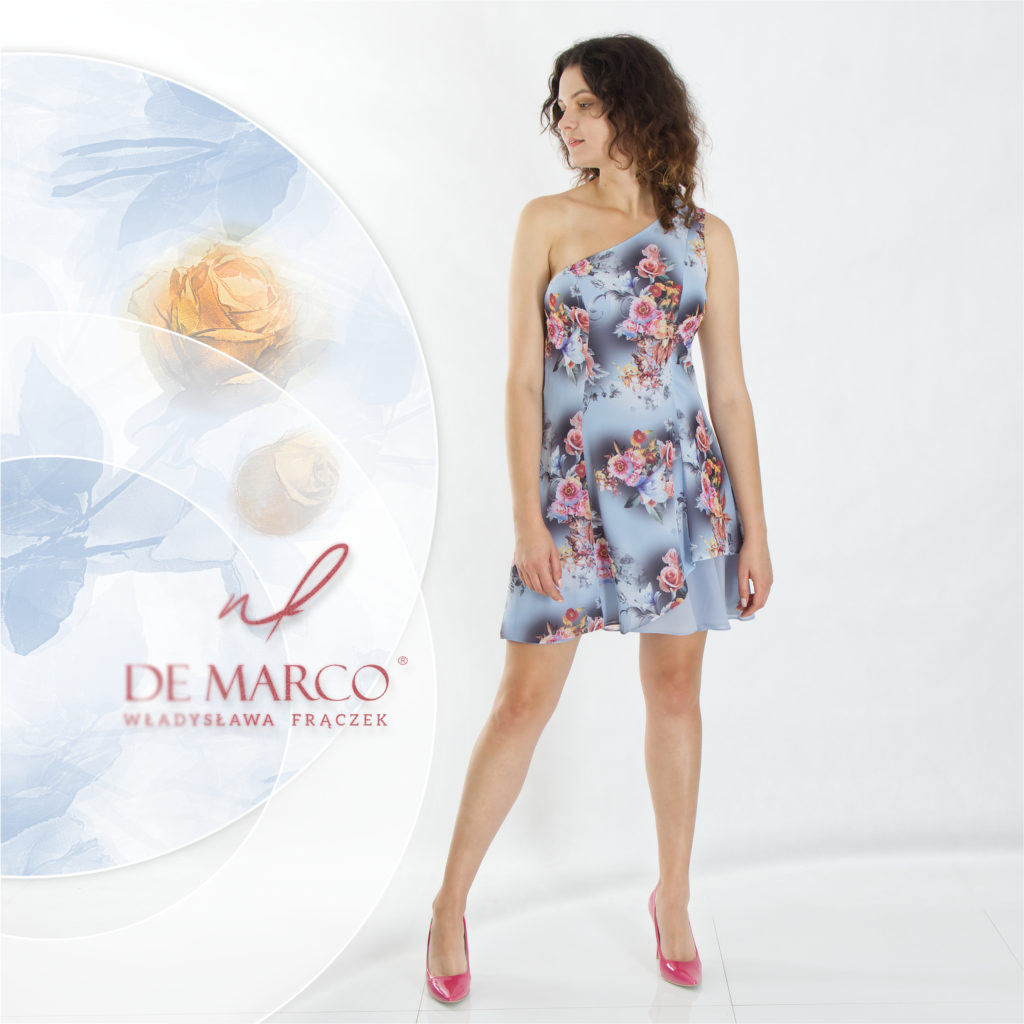 Dresses and pieces with a fashionable floral motif are not only part of romantic boho styling. Our Polish floral dresses are versatile and offer great styling possibilities. Romantic and delicate floral dresses go beautifully with high stilettos or elegant pumps, but can also be worn as a casual look with comfortable, stylish ballerinas or sandals. If we are looking for an original outfit for the first autumn chill – a subtle and airy floral dress will also delight in combination with a luxurious leather jacket and boots.
The floral dress, although associated with romantic, delicate styling – is the perfect base for original "claw" ensembles. A beautiful, sensual one-shoulder mini dress with a floral motif – Tinker Bell II, in addition to exclusive occasions or casual garden parties, will also delight in its original version with, for example, a ramone jacket and boots.
Airy Polish dresses and floral sets from designer Wladyslawa Frączek
Elegant and stylish floral cocktail dresses, beautiful mini dresses with a floral motif or women's ensembles are also perfect options for important events and celebrations, especially for weddings and weddings. To increase the prestige and make the floral chiffon dress more formal for special occasions – it is advisable to match it with a matching jacket or a ladies' blazer. Ideally, the garment and accessories should contrast with the base creation.
Floral motifs, as in the case of our Holiday set Samanta IV with a chiffon floral blouse, in the formal version is best combined with a plain, toned down and colour-matched to the motif – in this case a classic pencil skirt. Mini or midi floral cocktail dresses – are therefore good to complement in case of cold weather – with a plain jacket or jacket.
The same goes for accessories – shoes, handbag or jewellery. For the most important, prestigious occasions – opt for monochrome, simple accessories or shoes. Of course, floral dresses will look great with neutral, always fashionable beige, gold, silver or black.
Elegant floral dresses, whether in mini or maxi length, will look best in duo with monochrome accessories. For weddings, anniversaries or lavish parties – opt for versatile, neutral colours – creams, beiges, skin-matching browns, gold, silver or black. For less formal gatherings with friends, bolder colours such as raspberry red can be chosen.
Also read: Black and white outfit styles for work and corporate events by De Marco