Mustard styling for autumn! Mustard Elegance: Discover Timeless Classics in the De Marco Offer
Mustard Revisit Styling: Elegance Penetrating the Autumn Climate
De Marco online shop for exclusive women's clothing: Mustard tailored styles .
Autumn is the time of year that favours deep and warm colours. So it's no surprise that the mustard shade has become the star of the season. De Marco is proud to present a collection of mustard-coloured formal creations that fit perfectly into this trendy trend.
Also read: Mustard tailored formal and business styles by De Marco
Timeless Women's Creations in Mustard Colour: For women who appreciate the classics
Dresses, suits, ensembles with trousers or skirt and women's tailor-made suits at the De Marco Fashion Showroom.
Mustard is a colour that stands the test of time. Our mustard formal dresses are the quintessence of feminine elegance, exuding both style and confidence. Perfectly tailored cuts emphasise the curves of the figure, while the waistline adds a sensual touch. The cuts are selected according to figure and taste, so as to correct the figure and bring out its very assets.
Elegant Women's Costumes in Shades of Yellow: A Shade of Luxury and Prestige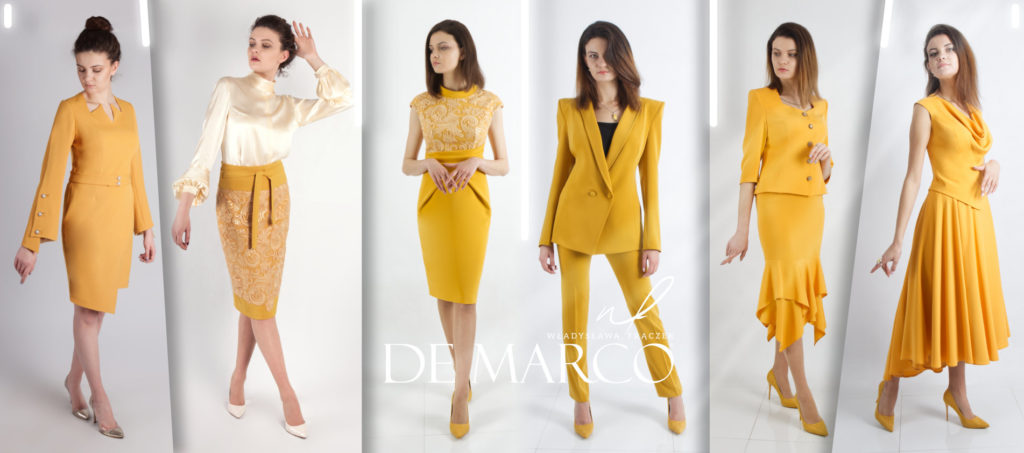 There is nothing more influential than a lady in a mustard costume. Our Ellen women's costume is a combination of classic and modern. Its unique design accentuates the shoulder line perfectly and the refined details add to the charm. Ellen is not only the choice for the office or business meetings, but also the perfect outfit for special occasions such as weddings and banquets.
Also read: Modern elegant women's ensembles for autumn De Marco jacket with skirt
Exclusive Women's Sets and Sets in Mustard Colour
Our exclusive women's sets in mustard shade are the definition of luxury and elegance. Details such as beautifully cut necklines and the use of exclusive lace add to the unique character of the set. Thanks to an excellent viscose blend refined with lycra, the material is airy and crease-resistant, which means that our creations remain flawless all day long.
Fashionable and Timeless Mustard Women's Business and Business Suits: The Power of Women's Style
The Women's suit in a shade of mustard is a bold yet extremely fashionable choice. The mustard colour harmonises perfectly with warm beauty types such as Ms Spring or Ms Autumn. It is more than just a casual outfit – it is a manifestation of feminine power and style that is irresistible.
Also read: Fashionable women's formal suits De Marco Polish luxury brand.
The Most Fashionable Mustard Women's Business and Casual Styles: Your Elegance, Your Choice
Mustard is the shade that reigns supreme among autumn-winter trends. De Marco's creations are part of this fashion narrative, creating unforgettable mustard styles that highlight feminine uniqueness and strength. Let yourself be enchanted by the deep mustard colour and choose your perfect creation today!
How you dress is indicative of how you treat yourself! Be good to yourself and you will exude joy and energy, giving happiness and inspiration to others!