Minimalist women's ensembles for work and beyond De Marco luxury Polish clothing brand. Made-to-measure online
How do you build simple, classic styles for work? What to wear to work in the office? How to look elegant and professional at work. Here are De Marco's minimalist, black-and-white styles created for the professionally active Successful Woman.
Member of the Board of the Małopolska Voivodeship – Ms Iwona Gibas – chose a classic, extremely elegant tailored black-and-white visitor's suit with a "little black" from our Atelier De Marco for the opening of the "Sacred Art of Małopolska" exhibition at the Archdiocesan Cardinal Karol Wojtyła Museum in Kraków. Source: facebook.com
Also read: Sensual formal dress in navy blue. Fashionable, universal creation in the style of a "little black dress".
How to dress for work? De Marco's black and white business outfit
For women in business or the world of politics, the style choices should serve to build authority and inspire confidence. In business situations, it is therefore advisable to opt for an outfit that is professional, highly competent and, at the same time, distinguished by classic elegance, which demonstrates the owner's sense of aesthetics and "good taste". So how should we dress for work when we hold senior clerical or managerial positions? How to build a style for work in a law firm?One of the most important styling rules in business style, helping to build the image of a Successful Woman – is to rely on classic colour duos, among which the leading one is the minimalist duo of black and white.
Classic, minimalist ensembles in neutral and authority-building combinations of black and white – allow you to positively stand out from the crowd of gathered guests, emphasising your professionalism. A perfect example of this is our wonderful client – the Honourable Mrs Iwona Gibas from the Board of Directors of the Malopolska Region, wearing a tailored black and white suit with a De Marco pencil dress. Source: facebook.com The duo of black and white is synonymous with classic, timeless elegance. Such styling never goes out of fashion and is suitable for any occasion. Simple sets combining black and white are very often worn by women who are regarded as fashion icons in the world of business and politics – for example, the well-known lawyer and human rights activist Amal Clooney, the American Republican Party politician Sarah Palin or the former President of Croatia, Kolinda Grabar-Kitarović.
Also read: Exclusive and extravagant women's suits and tailor-made formal dresses at De Marco..
Elegant minimalist style set for work by De Marco
Among women at the highest levels of business or politics, a minimalist style of dressing is popular. Minimalist styling is characterised not only by restraint in the colours, textures or patterns used, but also by classic, plain and simple cuts.
The most appropriate attire for women in the world of business or politics, are bespoke business professional style creations. This consists of tailored tailored suits,stylish women's suits, women's suits or ensembles with women's blazers or jackets.
Among the domestic icons of business fashion in the world of politics, we can certainly distinguish Ms Iwona Gibas – from the Board of the Małopolska Region. Perfectly tailored, elegant and timeless styling is definitely her trademark. Source: facebook.com
Minimalism in dress, especially in professions with high social exposure, enables us to effectively represent the content or ideals guiding us as a social functionary or institutional representative. Simple forms and economy of means definitely "work" in our favour in terms of establishing contact and gaining trust. White or black are the colours of authority. In addition, white is strongly associated with noble, honest and truthful people.
Our client, the Honourable Mrs. Iwona Gibas in a black and white classic set with pencil dress and jacket, during the opening of the exhibition "Sacred Art of Lesser Poland".Source: facebook.com
Minimalist styling for office, work in black and white by De Marco
Minimalist women's ensembles for work
Classic, full of elegant simplicity, the Women's Menager IV blazer in shades of white is a perfect choice for work, office, public speaking or for a speaker. It will go well with black classic business trousers such as the Klaudyna model or the airyFiora skirt. White works perfectly in both natural light and studio light. So we will present the jacket perfectly both at a press conference in the open air and in photographs or film footage with studio lighting.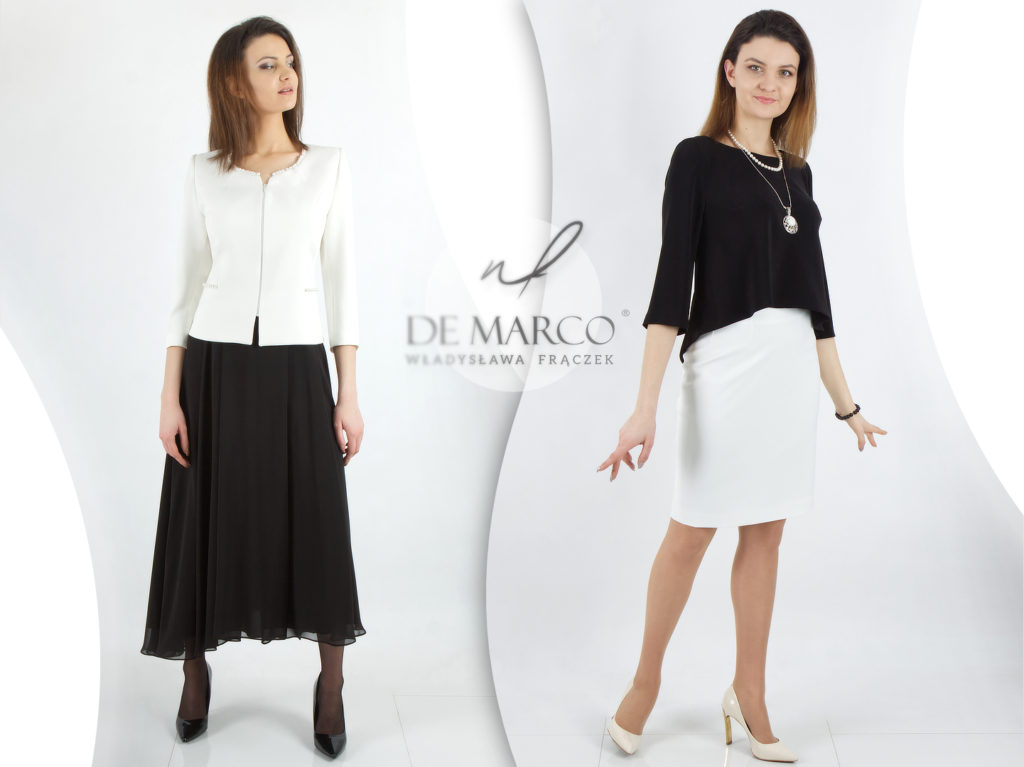 The exclusivewomen's business blazer Żaklina in black is a proposal that breaks the accepted patterns of business attire, at the same time full of elegant simplicity. Dedicated especially to Successful Women, of the Dark Autumn type. It looks beautiful and sensual in a duo with, for example, white business trousers.
Simplicity and minimalism in business fashion do not exclude interesting accents or trims. It is important that the decoration or finish does not dominate the overall style, while still being a coherent part of it. Pictured: Eduard III business trouser set.