Worth Global Style Network and Coloro, the global authorities on consumer and design trends, have announced Apricot Crush as the colour of the year for 2024. This regenerating, refreshing and energetic shade fits perfectly with the unique needs of today's consumers, who face a variety of difficult emotions and anxiety about the future.
Apricot Crush the colour of the year 2024.
Polish dresses and suits for mums for weddings, communions, christenings
Apricot Crush is a shade of peach, salmon, powder orange that can be expected next season. Women planning important events such as son or daughter weddings, wedding anniversaries, a child or grandchild's communion or other celebrations can expect a full range of looks in these charming shades.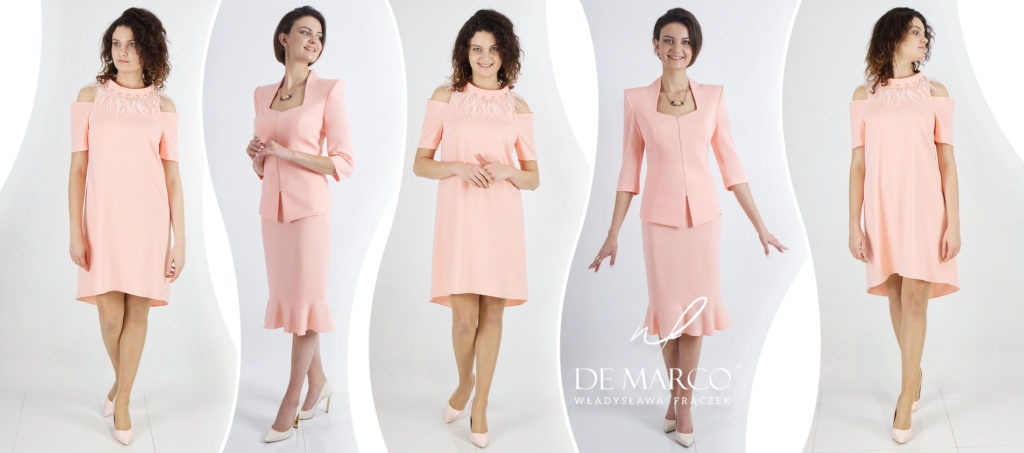 Elegant dresses for weddings, tasteful modern suits and ensembles with skirt or trousers – all made from the highest quality, exclusive fabrics. The De Marco collection offers unique cuts that are precisely tailored to the individual's beauty type and figure. This soft, illuminating shade is perfect for women in their 40s, 50s and 60s. Ideal for spring and summer celebrations such as communions, weddings, corporate anniversaries or wedding anniversaries.
Also read: Fashion trend 2024 Jacquards in exclusive womenswear. De Marco luxury Polish brand
Branded women's clothing De Marco Made-to-measure
Apricot Crush is a joyful shade that brings a fresh spring and summer breeze to the wardrobe. Each of the De Marco styles on offer is bespoke, taking into account clients' individual preferences. The ability to make alterations to best suit the silhouette and the celebration, makes each creation unique and unrepeatable.
In the range of De Marco, a luxury Polish brand, you will find unique dresses and outfits in shades of Apricot Crush that are sure to add glamour and elegance to your special moments.