Elegant orange blazer from De Marco. Online shop for branded made-to-measure women's clothing.
Are you looking for an elegant autumn creation that will allow you to enjoy the memory of warm, sunny days for a while longer? Are you dreaming of a stylish formal outfit that will beautifully accentuate your summer tan, while fitting beautifully into the charming Polish autumn?
De Marco's fashionable formal jackets in intense colours. Ideal for the turn of summer and autumn
The turn of summer and autumn, the post-holiday return to everyday reality and the often increasingly capricious weather can be overwhelming and can be a reason for a lowered mood. All the more so at such a time, it is worth taking care of such colours in the wardrobe, which will give confidence and new energy. Such are certainly the intense colours, which are shades derived from colours we associate with warmth, relaxation and rest – red and yellow. Orange, created by mixing these two primary colours, has an extraordinary power and impact. Orange liberates new energy for action, joy of the moment and fantasy.
Also read: HIT of the season!!! A revolution in business and diplomatic fashion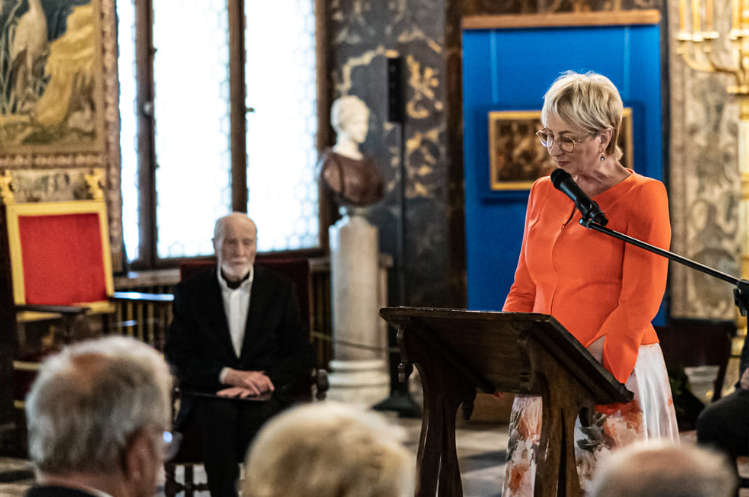 The orange jacket from our Atelier De Marco was also appreciated by our client, Member of the Board of Directors of the Małopolska Region – the Honourable Ms Iwona Gibas, who created a styling with a plain jacket in the colour of orangy. The jacket model is available in our Atelier, in the offer of bespoke sewing, in various colours..
Also read: Women's sassy suits, suits, dresses for weddings and work in autumn and winter
What colour goes well with a tan? Stylish De Marco jacket in warm orange
Elegant orange blazer from De Marco.
The colour orange is a truly energetic shade that can liven up any look. What's more, orange blends perfectly with tanned skin to create a fresh and radiant effect. It is therefore the perfect choice not only for summer dresses and accessories, but also for styling for the first autumn chill. If we want an outfit which will allow us to think back to summer relaxation and emphasise the tan of those days – it is worth pairing an orange jacket or blazer with white, cobalt, turquoise or mint. Orange will also look great in duets with gold or beige shades.
Our client, the esteemed Ms Iwona Gibas – knows exactly how to create elegant, energetic formal sets. Pictured here: styling based on a plain formal jacket in an orange shade, paired with a white pleated skirt.
Elegant women's clothing from a Polish manufacturer. De Marco online shop Orange jacket to skirt about more. In our offer a lot of interesting realizations we invite you to see our whole collection on online shop..